RAINHA DO SAMBA 2005
Friday November 25, at Plaza Flamingo, 423 College St. W.
Come party with us as we celebrate the evening of new dancers. Brazil Nativa and Samba Explosion will be having a samba contest amongst the community, to crown a winner, and will also be featuring their new girls..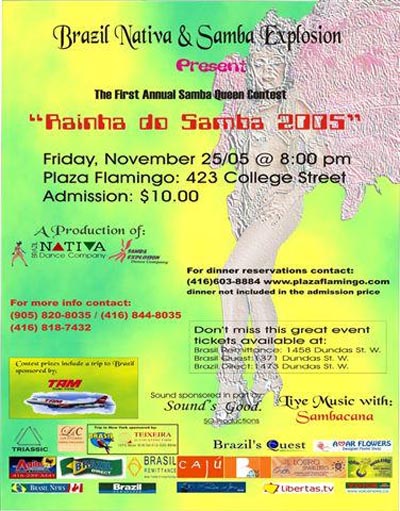 Sambacana, with Cibelle Iglesias and Marcelo Neves will animate the evening with Brazilian sounds.
And The Bateria from The Escola de Samba de Toronto will be releasing it's new samba, De Leste a Oeste de Norte a Sul, Toronto e O Ponto de Encontro ("From East to West, from North to South, Toronto is The Meeting Place") live, in its full percussive revelry.
Tickets (only $10!) are available by calling Monica at 416-538-7432, while they last!
Hope to see you there!