Attention fellow sambistas and percussion lovers!
We are very excited to be working in association with Cool Drummings International Percussion festival (May 22-26) on our upcoming presentation:
Festa Da Bateria!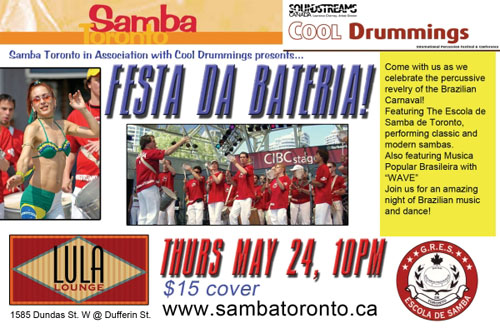 Join us in celebration of the beginning of summer, filled with lots of samba and great music!
Thursday May 24. 10:00pm
Lula Lounge. 1585 Dundas Street West ( @ Dufferin Street )
ESCOLA DE SAMBA DE TORONTO
with our lovely dancers and singers playing samba hits.
WAVE
playing Musica Popular Brasileira with Cibelle Iglesias, Wagner Petrilli, Luis Guerra, John Yelland, and Alan Hetherington.
Please check out some of the wonderful international percussive talent during the festival.
www.soundstreamscanada.ca
www.sambatoronto.ca
Hope to see you all there!
Abrašos!
Samba Toronto
---